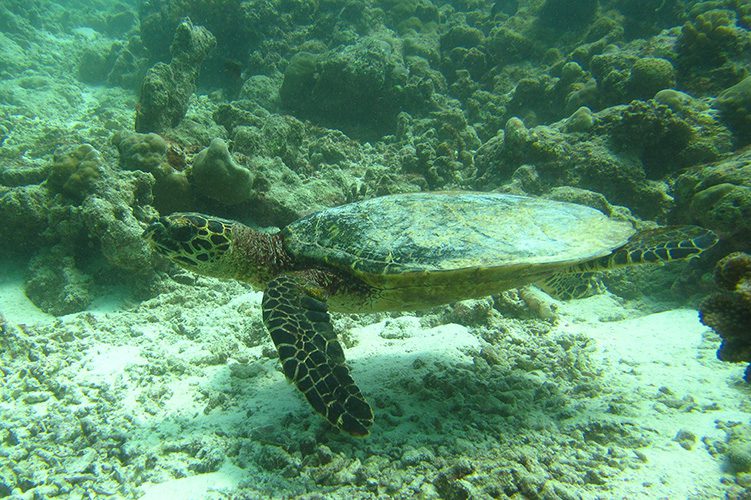 Coral reefs' survival is under threat due to anticipated climate changes, ocean pollution and developmental activities. Unusually warm ocean temperatures due to climate change and a strong "El Nino" phenomenon that pushes up temperatures further, have led to coral reefs being affected in a global bleaching event over the past years.
Our coral reef program began in 2011 as a joint effort with Taj Exotica Resort & Spa Maldives with the aim of increasing coral coverage near the resort and encouraging healthy coral growth on the local reefs. Supporting the Coral Reef Monitoring Component of the Wetlands Conservation and Coral Reef Monitoring for Adaptation to Climate Change (WCCM) Project implemented by the Maldivian Ministry of Environment and Energy, we have designed this program to support adaptation and mitigation of climate change in the Maldives.
Coral propagation is an important part of the effort to increase the biodiversity of the reefs. At Taj Exotica Resort & Spa Maldives, there is a tremendous difference in the natural house reef project established here compared to having coral frame structures; our natural areas look more vibrant with barely 10% recovery.
Lead by our resident marine biologist, Corey Akers, here are the marine conservation initiatives available at Taj Exotica Resort & Spa Maldives:
Coral Garden Project
Sponsored by our guests and kind donations, our Coral Garden, found in the second largestlagoon in the Maldives, is ever growing and currently has 277 sponsored frames. Fish and other marine creatures are thriving here with over 10,000 healthy planted corals. When matured, the dense sections of coral will have a much better chance of successfully spawning, and the results should be more noticeable on the reefs within its drift. Overtime, this will create a healthy reef ecosystem increasing the fish and invertebrate diversity.
Each day, the marine biologist spends 2 to 4 hours underwater doing required maintenance and provides updates for this successful project. Guests interested to be part of our reef recharge project can choose to join our marine biologist with the planting of frames, or simply sponsor a frame. With every frame that is planted, each guest will receive an adoption certificate, a dedication plaque on the frame and the coral frame planting photographs. Updates on the developments of the corals will be sent once every 6 months.
Snorkelling Talk & Tour
Every morning, our marine biologist goes to the surrounding local reefs to engage guests in snorkelling. Our guests can learn lots more in these talks about the interesting fish and life underwater.
Stingray Feeding and Stingray Talk
At the end of each day, guests are invited to attend a special 15-minute feeding session of our local stingrays. Our marine biologist will be at hand to talk about the lives and biology of the stingray and encourage guests to help take care of our oceans and join us to at the Dive Centre to see and personally experience all the beautiful things the ocean has to offer.
Weekly Marine Presentation
Guests can learn more about the Maldives Islands, corals, reefs and our marine inhabitants with this series of presentations given by our marine biologist.