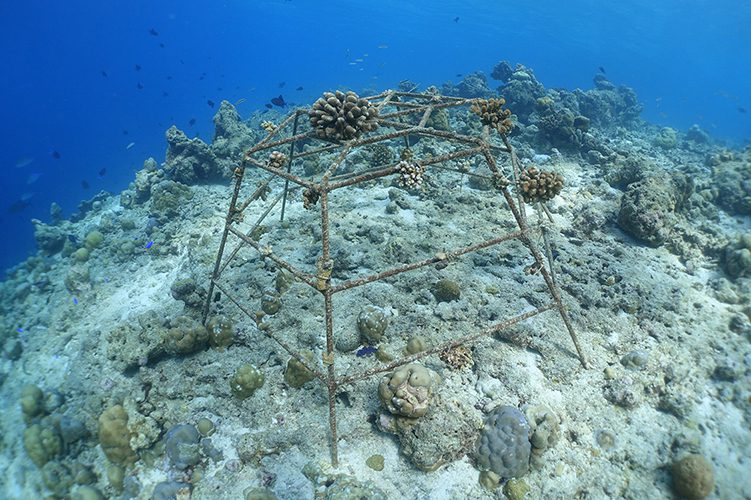 Dusit Thani Maldives is located at the Baa Atoll which is the country's first and only UNESCO Biosphere reserve. The Baa Atoll serves to protect the rich biodiversity of the area and is home to a wide range of marine life including thousands of fish and coral species. In recent years, Baa Atoll has become most famous for the mass agitations of manta rays and the whale sharks that gather occasionally in the world renowned, Hanifaru Bay.
Our resident marine biologist, Thomas Pegram, leads our team's involvement in the following marine conservation initiatives at Dusit Thani Maldives:
Marine Wildlife Monitoring
Turtles, manta rays and sharks are some of the most threatened species within our marine ecosystem. Monitoring their populations gives us an indication of the general health of the reef environment.
By collecting and sharing photographic and video evidences of these species we can collaborate with existing research projects to identify unique members within each species. Your photos can help. If you happen to snap a turtle, manta ray or shark, you too can become a collaborator; simply share your images with us along with some information on where you sighted the animal and we will see that it gets the right treatment.
Coral Restoration Project
Mass coral bleaching is a severe threat that our oceans face today. To improve our house reefs, we have installed a coral nursery to propagate corals sourced from naturally occurring fragments. Once a fragment has stabilized, we transplant it on to a frame structure which supports several fragments to form a miniature reef. Since many fish and invertebrate species utilize these coral frames as their habitats, frames set up in desolated areas can help bring back the diversity of the reef ecosystem.
Come sponsor a coral frame and you can own a personal coral reef. Choose from three sizes of frames available and you can assist in transplanting the coral fragments that make up your reef. We will keep you updated on the progress every 6 months by sending you pictures of how your coral frame is transforming into a new home for many creatures of the sea.
Educational Trips & Cruises
The best education is involvement – which is why we strongly encourage guests to join us on one of our guided snorkeling safaris or cruises. Guests can choose from snorkeling trips at the Hanifaru Bay where scores of manta rays feed in the plankton-rich waters and gentle whale sharks swimming with majestic grace, or swim along the reefs of Dhonfanu Island with some of the oldest oceanic creatures like green turtles and hawks bill turtles, or go on cruise trips to watch spinner dolphins frolic in the waters.
Accompanied by our marine biologist or a member of our knowledgeable team, we will take guests out by boat to visit these charismatic creatures of the Baa Atoll.
In addition to these excursions, our resident marine biologist hosts presentations throughout the week to raise awareness about our precious coral reefs and the amazing animals that call it home. We welcome all guests to join us at informative sessions to learn more about our delicate marine environment and how you can do your part to ensure its survival.