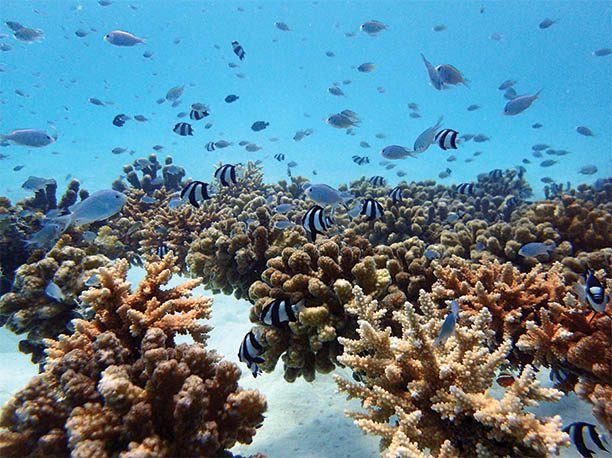 Just below the surface of the tropical waters of the Maldives, colorful fish and weird yet wonderful sea creatures inhabit a magical underwater world of intricate coral formations, some as big as mountains! The coral reefs are stunningly beautiful with an abundant marine life. Guests can choose from a list of key activities specially designed for just about anyone to gain a deeper understanding of the marine ecosystem.
Our resident marine biologist, Marina Jaramillo Delgado leads the following marine conservation initiatives at Conrad Maldives Rangali Island:
Coral Nursery & Frames:
Set up in a corner of the lagoon, we populated the coral nursery with 'Corals of Opportunity' which are coral fragments broken off naturally. As these corals are unlikely to survive on the reef if left alone, our marine biologists attach them to suitable substrates so they may grow into a clone of the mother colony. These fragments are closely monitored for growth while predators and competing algae are regularly removed.
We also introduced an artificial reef structure – coral frames – which creates a new environment for many reef creatures to make use of. The coral frames are located at our newly introduced coral nursery area in the lagoon here at The Conrad Maldives Rangali Island.
Corals collected for the frames are affixed using cable ties. Eventually, the corals grow their own bases onto the structure and the cable ties become inert inside the corals. Over time, these coral fragments grow into mature colonies, covering the frame entirely. With sustainability being key, our marine biologists have adopted scientifically tested and 'best practice' methods throughout the reef regeneration project, while carrying out damage mitigation works for existing corals.
We hope these frames will continue to be a talking point for guests here and inspire them to become involved in our coral frame adoption program. Not only can guests be actively involved with our marine biologist/s with the planting of the frames, they will also each receive an adoption certificate, a dedication plaque on the frame and the coral frame planting photographs. Updates on the corals' growth will be sent to participating guests once every 6 months.
Glass Bottom Boat Trips
New to the resort is the introduction of two scheduled trips attended to weekly by our resident marine biologist, who will bring the trip to life with explanations and facts about the fishes, rays, sharks and underwater fauna we encounter. This trip is ideal if guests wish to explore and learn more about the world below the surface without getting wet!
Whale Shark Talk & Tour
The southern slopes of the Ari Atoll are famed as being a great place to see whale sharks all year round. Starting with an informative and entertaining presentation by our marine biologist at the Centre, guests then head over to the whale shark area for a once in a life time opportunity to snorkel with the world's largest shark.
Weekly Marine Presentations
Guests can learn more about the Maldives Islands, corals, reefs and our marine inhabitance with this series of 40-minute presentations by our marine biologist.